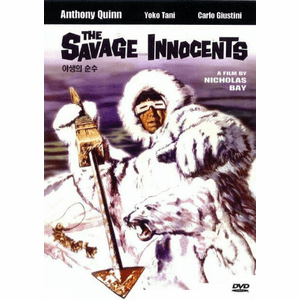 The Savage Innocents 1959 on DVD
**MESSAGE TO OUR CUSTOMERS**
To help do our part during these uncertain times in the world and to help encourage health and wellness. We at classicmoviereel.com have lowered the cost of all store items for a limited time. We have also implemented additional coupons and savings on the site in addition to lowering the pricing. We truly believe movie watching is a terrific way for families to be together and share memories. We wish you all the very best of health and wellness during these challenging times. God Bless, CMR


Product Description:
Region One. North American Format. (Will play in the US and Canada)
The Savage Innocents 1959 on DVD
Anthony Quinn added Eskimo to the many ethnic types he portrayed on film with this drama about a clash of cultures from director Nicholas Ray. Inuk (Quinn) is a When Inuk takes his wife and mother-in-law to a trading offers the missionary his wife's sexual favors. Offended by the man's rejection, Inuk kills him. Having broken Western law, Inuk is pursued by two Mounties (Peter O'Toole and Carlo Giustini). Slowed down by his wife's elderly mother, he sends the woman out on the ice to perish, another of his people's ancient traditions. The police capture Inuk, but the lawmen and their prisoner encounter severe weather. The Savage Innocents (1959) was the feature debut of actor O'Toole, who objected to the overdubbing of his voice in the finished film.
Actors: Anthony Quinn, Peter O'Toole, Lee Montague, Ed Devereaux Directors: Nicholas Ray Format: Import, NTSC, Widescreen Number of discs: 1. Studio: Suevia Run Time: 101 minutes
For more information about our services please visit our
Order information
Page.
All Regions Available! We will ship you the format for the country you specify in the Shipping Address, Guaranteed!