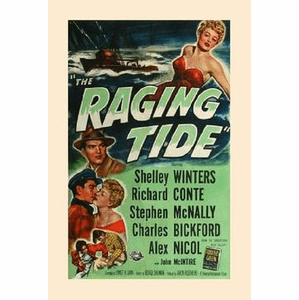 The Raging Tide 1951 on DVD
**MESSAGE TO OUR CUSTOMERS**
To help do our part during these uncertain times in the world and to help encourage health and wellness. We at classicmoviereel.com have lowered the cost of all store items for a limited time. We have also implemented additional coupons and savings on the site in addition to lowering the pricing. We truly believe movie watching is a terrific way for families to be together and share memories. We wish you all the very best of health and wellness during these challenging times. God Bless, CMR


Product Description:
Region One. North American Format. (Will play in the US and Canada)
The Raging Tide 1951 on DVD
A San Francisco hood is rubbed out by rival Bruno Felkin, who himself reports the crime to Homicide Lieut. Kelsey in an alibi scheme which fails. To escape, he stows away on a fishing boat. At sea, skipper Hamil Linder receives Bruno kindly, teaching him fishing; Bruno enlists Hamil's wayward son Carl to tend his slot machines. Then Carl takes an interest in Bruno's girl Connie. Climax in a storm at sea.
Cast: Shelley Winters ... Connie Thatcher Richard Conte ... Bruno Felkin Stephen McNally ... Lt. Kelsey Charles Bickford ... Hamil Linder
Runtime: 93 min
For more information about our services please visit our
Order information
Page.
All Regions Available! We will ship you the format for the country you specify in the Shipping Address, Guaranteed!