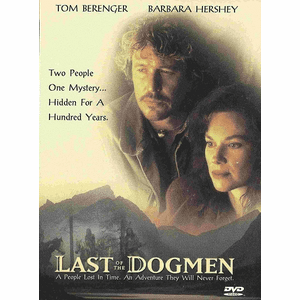 Last of the Dogmen 1995, Widescreen Special Edition on DVD
**MESSAGE TO OUR CUSTOMERS**
To help do our part during these uncertain times in the world and to help encourage health and wellness. We at classicmoviereel.com have lowered the cost of all store items for a limited time. We have also implemented additional coupons and savings on the site in addition to lowering the pricing. We truly believe movie watching is a terrific way for families to be together and share memories. We wish you all the very best of health and wellness during these challenging times. God Bless, CMR


Product Description:
Region One. North American Format. (Will play in the US and Canada)
Last of the Dogmen 1995, Widescreen Special Edition on DVD
Cast: Tom Berenger, Barbara Hershey, Kurtwood Smith, Steve Reevis.
Modern bounty hunter Lewis Gates is hired to track down three dangerous fugitives who have escaped into the Montana wilderness. When the fugitives are found murdered, Gates has a mystery on his hands. Accompanied by anthropologist Lillian Sloane, Gates ventures further into the mountains and discovers an isolated settlement inhabited by a Native American tribe thought to have been wiped out by white settlers a century earlier. The two gradually begin to gain acceptance within the tribe, but when Gates' vengeful ex father-in-law, Sheriff Deegan, leads a posse into the mountains, Gates and Sloane must prevent the tribe from being massacred a second time. Product Description
Actors: Tom Berenger, Barbara Hershey, Kurtwood Smith, Steve Reevis, Andrew Miller Directors: Tab Murphy Writers: Tab Murphy Producers: Donald Heitzer, Hannah Hempstead, Joel B. Michaels, Mario Kassar, Thomas Hedman
For more information about our services please visit our
Order information
Page.
All Regions Available! We will ship you the format for the country you specify in the Shipping Address, Guaranteed!