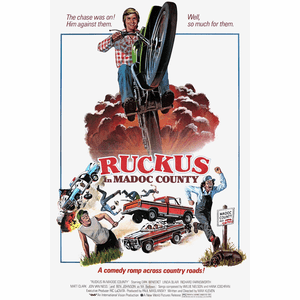 Ruckus 1980 on DVD
**MESSAGE TO OUR CUSTOMERS**
To help do our part during these uncertain times in the world and to help encourage health and wellness. We at classicmoviereel.com have lowered the cost of all store items for a limited time. We have also implemented additional coupons and savings on the site in addition to lowering the pricing. We truly believe movie watching is a terrific way for families to be together and share memories. We wish you all the very best of health and wellness during these challenging times. God Bless, CMR


Product Description:
Region One. North American Format. (Will play in the US and Canada)
Ruckus 1980 on DVD
Traumatized Vietnam vet wanders into a small town and finds shelter with a women who's husband is missing in action. But when local bullies decide to hunt down the lone vet they find they've unleashed a crazed commando. The chase is on.
Product details:
Actors: Dirk Benedict, Linda Blair, Richard Farnsworth, Matt Clark, Jon Van Ness
Directors: Max Kleven
Writers: Max Kleven
Producers: Paul Maslansky, Richard P. LaCivita, Timothy Rabbitt
For more information about our services please visit our
Order information
Page.
All Regions Available! We will ship you the format for the country you specify in the Shipping Address, Guaranteed!