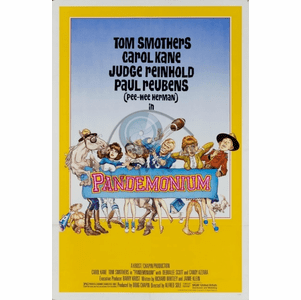 Pandemonium 1982 on DVD
**MESSAGE TO OUR CUSTOMERS**
To help do our part during these uncertain times in the world and to help encourage health and wellness. We at classicmoviereel.com have lowered the cost of all store items for a limited time. We have also implemented additional coupons and savings on the site in addition to lowering the pricing. We truly believe movie watching is a terrific way for families to be together and share memories. We wish you all the very best of health and wellness during these challenging times. God Bless, CMR


Product Description:
Region One. North American Format. (Will play in the US and Canada)
Pandemonium 1982 on DVD
Director: Alfred Sole
Writers: Jaime Barton Klein (as Jaime Klein) , Richard Whitley
Stars: Tom Smothers, Carol Kane, Tammy Alverson
Tom Smothers stars as the brave mountie, who along with his trusty horse and bitter deputy Paul Reubens must track down a killer who is stalking coeds at a nearby cheerleader camp.
For more information about our services please visit our
Order information
Page.
All Regions Available! We will ship you the format for the country you specify in the Shipping Address, Guaranteed!