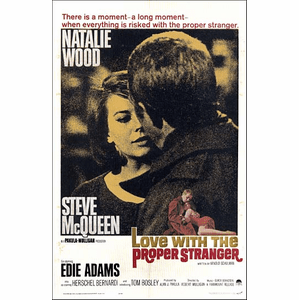 Love with the Proper Stranger 1963 on DVD
**MESSAGE TO OUR CUSTOMERS**
To help do our part during these uncertain times in the world and to help encourage health and wellness. We at classicmoviereel.com have lowered the cost of all store items for a limited time. We have also implemented additional coupons and savings on the site in addition to lowering the pricing. We truly believe movie watching is a terrific way for families to be together and share memories. We wish you all the very best of health and wellness during these challenging times. God Bless, CMR


Product Description:
Region One. North American Format. (Will play in the US and Canada)
Love with the Proper Stranger 1963 on DVD
When Angie Rossini finds out she's pregnant, she tracks down Rocky Papasano the musician with whom she had a one night stand. Angie works a sales clerk in a department store and comes from a close knit Italian family where her brothers keep a close eye on her. The two really don't know one another but Rocky agrees to arrange for her to have an abortion but when he sees the conditions under which it will be performed, he gets her out of there. Faced with his situation, Rocky asks Angie to marry him but she seems uninterested, especially since he sounds like he's taking a dose of bad medicine, and turns to a lovelorn suitor, Anthony, as a solution to her situation. Rocky continues to try and see her however and it soon becomes apparent that she also has another plan.
Cast:
Natalie Wood ... Angie Rossini Steve McQueen ... Rocky Papasano Edie Adams ... Barbie Herschel Bernardi ... Dominick Rossini Anne Hegira ... Beetie
Runtime:102 min Country:USA Language:English Color:Black and White
For more information about our services please visit our
Order information
Page.
All Regions Available! We will ship you the format for the country you specify in the Shipping Address, Guaranteed!