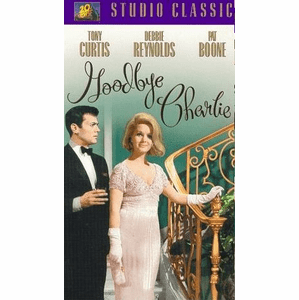 Goodbye Charlie 1964 on DVD
**MESSAGE TO OUR CUSTOMERS**
To help do our part during these uncertain times in the world and to help encourage health and wellness. We at classicmoviereel.com have lowered the cost of all store items for a limited time. We have also implemented additional coupons and savings on the site in addition to lowering the pricing. We truly believe movie watching is a terrific way for families to be together and share memories. We wish you all the very best of health and wellness during these challenging times. God Bless, CMR


Product Description:
Region One. North American Format. (Will play in the US and Canada)
Goodbye Charlie 1964 on DVD
Shot by a jealous husband, Charley falls out a porthole and is lost at sea only to find himself returned as an attractive blond woman. His best friend is staying at his house as he puts Charlie's affairs in order and after being convinced, finds himself an unwilling helper in Charlie's new plan to marry into money.
Cast:
Tony Curtis ... George Wellington Tracy Debbie Reynolds ... The Reincarnated Charlie Sorel / Virginia Mason Pat Boone ... Bruce Minton, the 3rd Joanna Barnes ... Janie Highland Ellen Burstyn ... Franny Salzman (as Ellen McRae)
Runtime:116 min Country:USA Language:English Color:Color
For more information about our services please visit our
Order information
Page.
All Regions Available! We will ship you the format for the country you specify in the Shipping Address, Guaranteed!