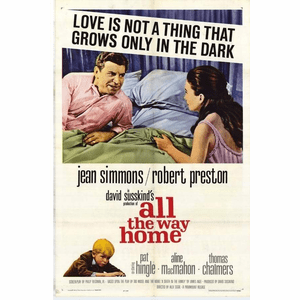 All The Way Home 1963 on DVD
**MESSAGE TO OUR CUSTOMERS**
To help do our part during these uncertain times in the world and to help encourage health and wellness. We at classicmoviereel.com have lowered the cost of all store items for a limited time. We have also implemented additional coupons and savings on the site in addition to lowering the pricing. We truly believe movie watching is a terrific way for families to be together and share memories. We wish you all the very best of health and wellness during these challenging times. God Bless, CMR


Product Description:
Region One. North American Format. (Will play in the US and Canada)
All The Way Home 1963 on DVD
Starring Jean Simmons, Robert Preston, Pat Hingle, Aline MacMahon, Thomas Chalmers
Directed by Alex Segal
Print: black/white Runtime: 97 min. Genre: drama Print quality: A
In the early 1900's Tennessee, a loving family undergoes the shock of the father's sudden, accidental death. The widow and her young son must endure the heartache of life following the tragedy, but slowly rise up from the ashes to face the hope of renewed life.
For more information about our services please visit our
Order information
Page.
All Regions Available! We will ship you the format for the country you specify in the Shipping Address, Guaranteed!